Confirmed: Doumbouya completes selection of ministers with 7 women; full list out
The President of the transition Colonel Doumbouya is on the right track by selecting competent individuals to head the various ministerial posts. He must be commended for reducing the number of ministers from 36 under the previous government of Alpha Conde to 25. It is also a very good move to form the government on a gender-balanced which is to ensure women participate in nation building.
The new Transitional Government in Guinea is made up of 25 ministries and two general secretariats.
1 – Keeper of the Seals, Ministry of Justice and Human Rights: Fatoumata Yarie Soumah
2 – Ministry delegated to the Presidency in charge of National Defense: Aboubacar Sidiki Camara
3 – Ministry of Territorial Administration and Decentralization: Mory Condé
4 – Ministry of Security and Civil Protection: Bachir Diallo
5 – Ministry of Foreign Affairs, International Cooperation, African Integration and Guineans Abroad: Morissanda Kouyaté
6 – Ministry of the Economy, Finance and Planning: Lanciné Condé
7 – Ministry of Budget: Moussa Cissé
8 – Ministry of Labor and Civil Service: Julien Yombouno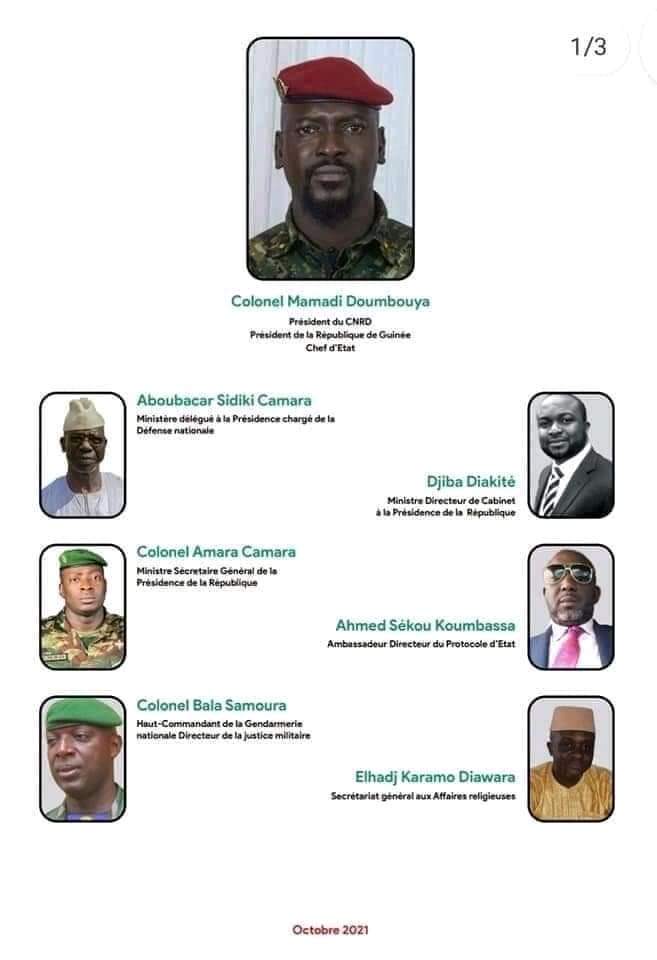 9 – Ministry of Environment and Sustainable Development: Louopou Lamah
10 – Ministry of Agriculture and Livestock: Mamoudou Nagnalen Barry
11 – Ministry of Energy, Hydraulics and Hydrocarbons: Ibrahima Abe Sylla
12 – Ministry of Mines and Geology: Moussa Magassouba
13 – Ministry of Infrastructure and Transport: Yaya Sow
14 – Ministry of Posts, Telecommunications and Digital Economy: Aminata Kaba
15 – Ministry of Town Planning, Housing and Regional Planning: Ousmane Gaoual Diallo
16 – Ministry of Fisheries and Maritime Economy: Charlotte Daffé
17 – Ministry of Commerce, Industry and Small and Medium Enterprises: Bernard Goumou
18 – Ministry of Higher Education, Scientific Research and Innovation: Diaka Sidibé
19 – Ministry of Pre-University Education and Literacy: Guillaume Hawing
20 – Ministry of Technical Education and Vocational Training: Alpha Bacar Barry
21 – Ministry of Health and Public Hygiene: Mamadou Pathé Diallo
22 – Ministry of Communication and Information: Rose Pola Pricémou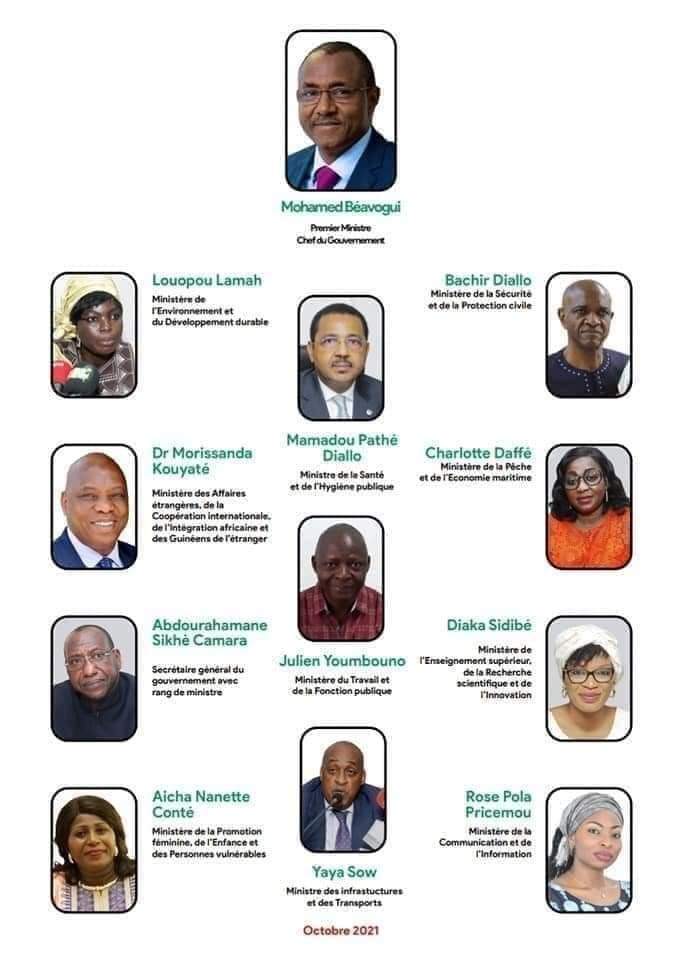 23 – Ministry of Youth and Sports: Lansana Béa Diallo
24 – Ministry for the Promotion of Women, Children and Vulnerable Persons: Aïcha Nanette Conté
25 – Ministry of Culture, Tourism and Handicrafts: Alpha Soumah
26 – General Secretariat of the Government: Abdourahmane Sikhé Camara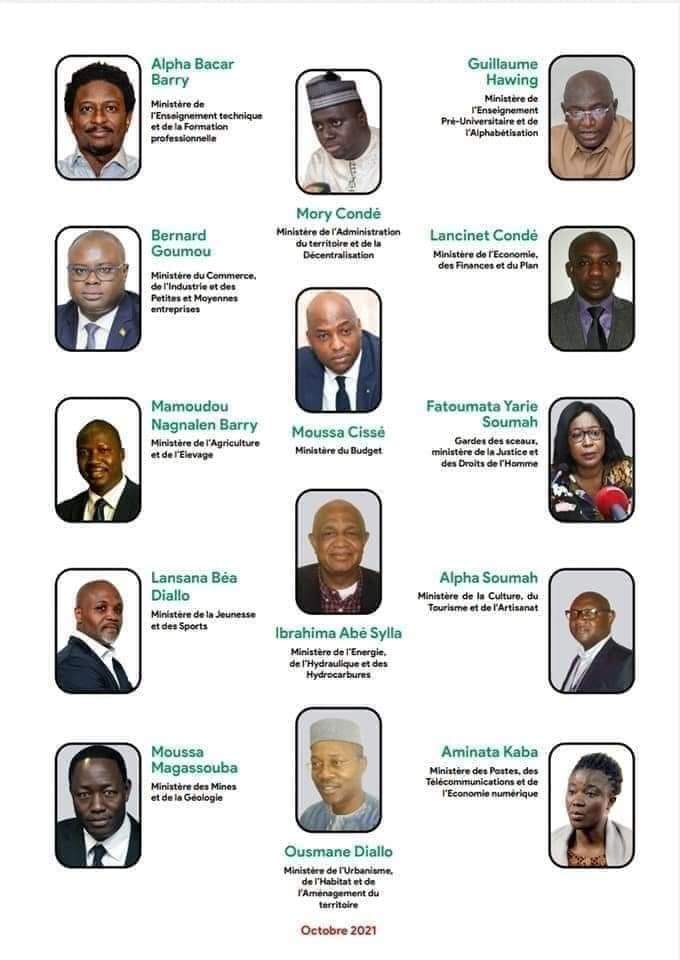 27 – General Secretariat for Religious Affairs: Karamoko Diawara
Good luck to the new team!