#NSMQonJoy: Odorgonno SHS qualifies to one-eighth stage
Odorgonno Senior High school has made it to the one- eighth stage of the National Maths and Science Quiz after beating West Africa SHS and OLAM SHS with 52 points.
Odorgonno Senior High School, West Africa Senior High School and OLAM Senior High School competed in contest 3 of the Greater Accra preliminary stage of the NMSQ which was held on Tuesday.
The school qualified in style as they won the Prudential Bank-NSMQ star award and the GOIL riddle bonanza.
Round one of the contest had West Africa SHS leading with 20 points and Odorgonno and OLAM SHS scoring 14 points and 07 points respectively.
In round 2, Odorgonno took charge with 29 points with West Africa SHS scoring 16 points and OLAM SHS 04 points.
The problem of the day propelled Odorgonno into the lead with OLAM and West Africa SHS following in that order.
By round 3 and 4, the winner of the contest had already been determined as Odorgonno led the other schools with 39 points and 43 points respectively.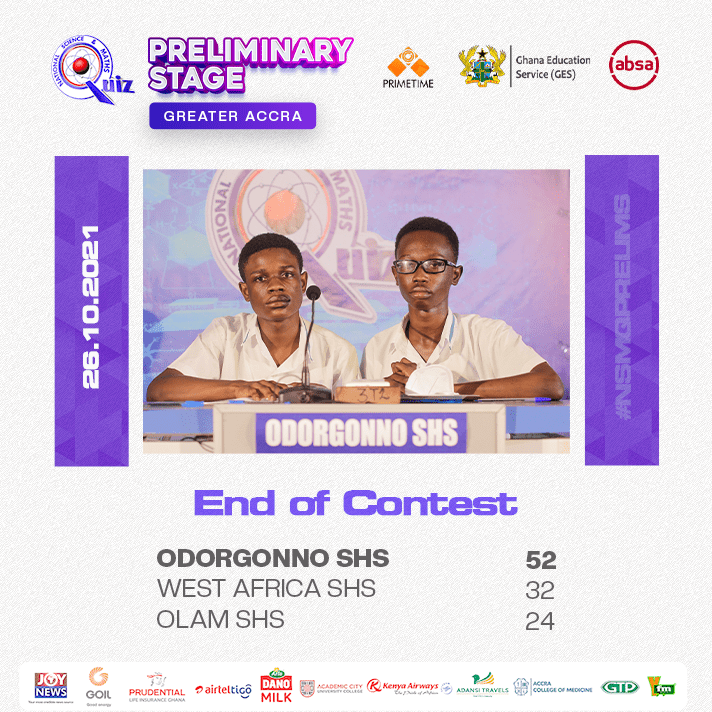 The win by Odorgonno Senior High School is an answer to their prayers as the school joins Chemu SHS and St. Thomas Aquinas to the one-eighth stage.