They Cut Leaves To Put On The Road;Winneba Bullion Van Armed Robbers Tried To Slow The Van And Fired
Every loss is tragic. Every loss is heartbreaking. Every loss is significant. Grief following sudden death, trauma, suicide or murder can be very hard to deal with, but no matter how one loses a child, whether by prolonged illness or sudden death, the loss of a child is perhaps the most profound, the most overwhelming, and the most inconsolable of losses to deal with.
Just within few days, after Ghanaians woke up to the devastating news of the death of a police officer, Emmanuel Osei, another bullion van robbery has occurred.
A bullion Van was attacked yesterday in the afternoon in Gomoa Okyereko on the Kasoa – Winneba road. The armed robbers fired multiple shots at the window side of the van where the police officer was sitting but none was injured.
A distress call was made to the winneba police command where a patrol team was despatched to rescue the van and the money.
In an interview with Joy news, Kofi Agyei the correspondent of Adom FM opined that the robbers numbering about six attacked the vehicle at the cross section of the road.
They deliberately cut tree leaves and placed it in the middle of the road to signify a car has developed a fault or had been involved in an accident to slow down the bullion van. The driver slowed down and unknown to him the robbers had laid ambush and started firing.
Superintendent Okanteh of the Winneba police command indicated that he can't disclose the bank owners of the bullion van as investigations are still ongoing. Many robberies have taken place at the same spot in the evening but for it to occur around 4:30 to 5:00 is uncommon.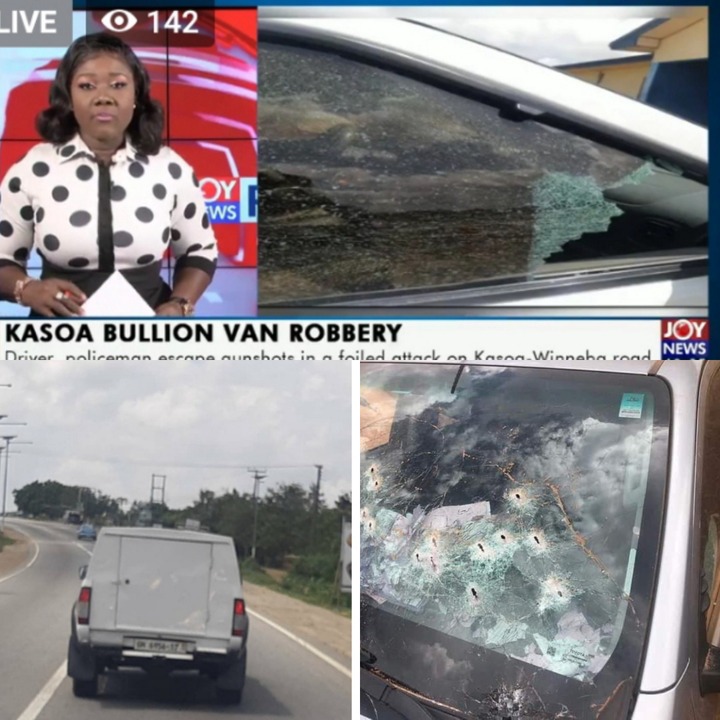 You can watch the full video below